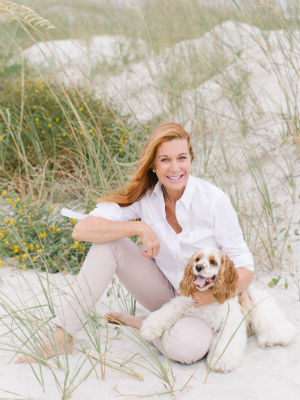 Before starting her real estate career in 1999, Diane Grady led a pretty interesting life. She worked for Janet Reno at the Miami Dade County Courthouse, flew around the world as a flight attendant for Pan American World Airlines, and owned natural food markets in south Florida and Tennessee. She had a passion for people and architecture, and was a natural at sales, making her a perfect candidate for Real Estate! Diane's vast exposure to people of all cultures, different architectural designs and her vision to conceptualize what properties "could be" enabled her to become one of the most successful REALTORS® in St Johns County and all of northeast Florida. Passion combined with education and integrity makes a winning combination for her and her customers. Diane utilizes her industry knowledge, expert negotiation skills and positive attitude to build a solid business model in St. Johns County Florida.
Diane's primary focus is the upscale waterfront properties and prestigious gated communities. Her emphasis includes Anastasia Island of St. Augustine, Florida where she lives, plays and works as she remarks that it is one of the most pristine and beautiful places that she has had the pleasure to live and loves to share it with others. "Anastasia Island offers the best of both worlds. It is an exclusive, never crowded island that offers a great deal of history and stunning white sand beaches. People come here and just fall in love with our charming town and idyllic lifestyle!"
Always searching for ways to improve, Diane joined the Tony Robbins Platinum Partnership, an exceptional group of people who are committed to personal and professional achievement and to giving back and sharing their good fortune with their community and society. She travels several times a year listening to well known speakers and taking numerous business and self improvement classes. She is coached by the best and master of these things, Tony Robbins and has learned to live in gratitude, understanding that things are happening for you—not to you. Diane is an anchor for those around her, approaching situations with a positive attitude and providing the confidence and assurance that there is always a resolution. She is a certified life coach and is certified in Neural Linguistic Programming in order to better understand and communicate with people. The better you can understand people, the more you can help them.
When reviewing what clients say about their experience in working with Diane, two things stand out, consistency and integrity. Diane is dedicated to assisting her client complete their real estate transaction and makes the experience joyful and rewarding. Charles Meyers affirmed Diane's commitment: "She went above and beyond to ensure we found a home and followed the deal closely all the way through." It is comments like this that solidify Diane's position as the top producing agent in St Johns County.
Diane enjoys all aspects of the real estate industry. Whether you are a buyer or seller, her ability to match buyers to homes and assist sellers in reaching their goals, combined with her unique talent to stage properties and creatively market listings insures that she will exceed customer expectations. Diane uses all aspects of social media and finds it gives her the ability to reach out to more people and produce immediate exposure. She creatively combines traditional marketing campaigns with social media to reach the highest level of interest. "Buying a home will probably be one of the biggest investments a person will make. It is our job as agents to use the skill, care and diligence to make it one of the best for them!" Helping clients stay organized and in control will contribute significantly to getting the best transactions possible with the least amount of stress. Diane adds, whether buyer or seller, I make it a priority to learn what each client needs and wants which is critical to successfully achieve their ultimate real estate goal.
Diane proudly acknowledges that approximately 95% of her friends were and still are customers. Her outgoing personality, desire to excel and positive attitude are key factors in her personal and business successes. "I live with an abundance of love and gratitude for everything I have and feel blessed with the people that surround me." Diane believes in giving back to her community and supports all neighborhood charities. She enjoys reading, music and gardening and is passionate about travel and experiencing different cultures and architecture. If we focus less on ourselves and more on others, the world will be a better place!
DIANE GRADY'S CERTIFICATIONS AND RECOGNITIONS:
REALTOR® CERTIFICATION
Licensed Realtor
GRI® GRADUATE, REALTOR® INSTITUTE
In-depth knowledge on technical subjects as well as the fundamentals of Real Estate
ACCREDITED BUYER REPRESENTATIVE
Extended education for assisting buyers through all tranactions
PLATINUM CLUBTOP AGENT AWARD
Top Producing Real Estate Agent
E-PRO
The most up to date Real Estate Technology training